Search Joyland Books>>

---

From Fanfare to Funfair
John Culine MBE

RRP: £14.50
Our Price: £13.50
You Save: £1.00

---

Dreamlands
Rob Ball

RRP: £24.00
Our Price: £22.00
You Save: £2.00

---

William Davies: The Story of a Pioneer Roundabout Proprietor
Kevin Scrivens & Stephen Smith
Our Price: £11.00


---

The Dome of Memories (Second Edition)
Mick Sharp

RRP: £10.00
Our Price: £9.50
You Save: £0.50

---

Four Swallows and Two Elephants
Ned Williams

RRP: £13.50
Our Price: £12.50
You Save: £1.00

---

Aerialist: The colourful life of a trapeze artist
Rebecca Truman

RRP: £7.99
Our Price: £7.50
You Save: £0.49

---

Giffords Circus: The First Ten Years
Nell Gifford

RRP: £25.00
Our Price: £19.99
You Save: £5.01

---

---
Book collection to sell?
If it is fairground, amusement park, circus or seaside-related, please contact us and we will make you an offer!
Do You Remember Joyland, Bridlington?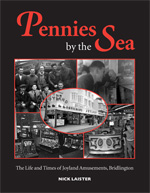 Buy the new book, Pennies by the Sea, or visit a special new website celebrating the history of this amusement arcade:
Post Your Memories Here
---
Advertise With Us
Joyland Books is the Internet's first online bookstore specialising in amusement park, fairground and circus books. With a growing weekly audience, advertising with Joyland Books is the ideal way to target this specialised sector. Click here to find out how to join the Joyland success story!
---
Joyland Books accepts most leading credit cards







Joyland Books
For amusement park, roller coaster, fairground and circus books. Also DVDs, videos, CD-ROMs and much more.
Based in Oxfordshire, United Kingdom
Established 2000
www.joylandbooks.com
www.joylandbooks.co.uk