Latest News
What is happening in the Campaign to save Dreamland?
Photo Updates
The latest pictures of work at Dreamland.
Visit Dreamland
Dreamland reopens on 19th June 2015!
Our Latest Plans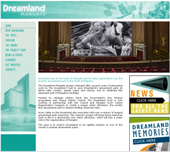 Our proposals for a thrilling, 'World's first' visitor attraction.
The Dreamland Trust



The Save Dreamland Campaign is administered by The Dreamland Trust.
Donate
How to donate to the Trust's fighting fund.
Dreamland Photo Gallery: The Bembom Years
Plus your chance to by Dreamland photos and gifts.
Dreamland Photo Gallery: The Godden Years
Your chance to buy Dreamland photos and gifts.
More Photo Galleries
Photographs of Dreamland, the Scenic Railway and Campaign events.
Thanet Local Plan
The Campaign's objections to the Thanet Local Plan.
Margate Masterplan
The Campaign's objections to the Margate Masterplan.
Current Applications
Find out about Dreamland planning applications.
I Dream of Dreamland
Our vision for a new Dreamland.


Features
Stories, poems and articles submitted by members.
Campaign Shop
Buy our products and support the Campaign
Forum
Discuss the Campaign on our message board.
FAQ
Your frequently asked questions.
Press
Contact details for press interviews.
Press Releases
Save Dreamland Campaign press release archive.
Links
Other internet resources on Dreamland and the Scenic Railway.
Find Dreamland
How to get to Dreamland Fun Park.