From a very early age, Deborah has been captivating the world of art with her visions translated into form.

As early as age 7, those around her identified Deborah's unique and broad based talents. By the age of 9, Deborah began the formal study of fine arts with an internationally well-known French mentor, Madam DiBlinqi Ford. Deborah continued instruction with Madam Ford, devoting all of her time and energies to her mentor's teachings. In high school she spent much of her time in art class lost in the freedom of creative expression, until entering a prominent North Eastern Art School.

It was here that Deborah was able to embrace the blending of fine and graphic arts present in her work today. Deborah advanced rapidly, winning numerous prestigious awards, and was placed on the Deans List in all of her years with the institution. Deborah's work has attained permanent placement at the school.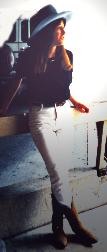 Upon graduation, Deborah immediately launched an advertising agency. Utilizing her skills as an artist, and unique insight in marketing, Deborah quickly developed a client base of Fortune 50 corporations. Many of her designs have likely been present in your home or office in the form of packaging and print media. Deborah has created effective and award-winning illustration & graphic design solutions for her clients.

Throughout her career as her agency's top executive, Deborah continued to develop her inherent love of fine arts. Her style, although definitively realistic, draws the viewer deeper into the fantasy that inspired the work. Her first available series based on the carousel of our youth is a fine example of her talent, breathing life into the whimsical nature of the carousel.

The artist has been accepted on numerous carousel and fine art gallery websites, cover illustrations and featured story in the October 2003 issue of "Carousel News and Trader. And she is pleased to offer these collectable high quality, limited edition Giclee paintings. Presenting the most majestic, nostalgic carousel and galloper horses to you to share and enjoy in your home or office. Discover the gentle allure and artistry of classic and contemporary carousel artwork; they are on display in the largest financial institutions in the USA, large and small corporations and beautiful homes in the United States. Her carousel series was inspired by her lifelong passion for the lights, music, magic, and fantasy of these antique wooden carousel animals, by the experiences, memories, and emotions of their involvement with this form of entertainment and amusement. Art and carousel enthusiasts alike have admired her paintings.