Adrian Fisher, author of best-selling 'Secrets of the Maze', is internationally recognized as the world's leading maze designer.
For over 21 years, he has had the extraordinary vocation of designing and creating unique and beautiful puzzle mazes all over the world.
His company which is based in Dorset, England, has set four Guinness world records, won 12 design and export awards, and created over 300 mazes in 17 countries, visited by over 21,000,000 visitors since 1979.
Adrian Fisher Mazes Ltd is the world's leading maze design company.
In 2003 themagiceye caught up with Adrian and he kindly gave this interview.
themagiceye: How long have you been designing mazes?

Adrian Fisher: I designed and built my first full-size hedge maze in a private garden in 1975.
How did you go about developing a career in maze design?
I have always been fascinated by geometry, history and landscape, and being a maze designer allows me to enjoy great creativity in these and many other ways. I started full-time in 1983, and now my company has a team of 10 talented staff based in Dorset, England, working on maze projects all over the world. We are the world's leading firm of maze designers. Our largest single market is the United States, where we do about half our work.
How does your design service operate? That is, do people tend to contact you or do you seek out certain projects?
We create about 50 new mazes each year. We receive enquiries for all kinds of mazes. Many people are inspired by the sheer diversity of different kinds of mazes that we have created - from formal hedge mazes to mirror mazes; from water mazes to mazes made of decorative paving.
People come across our work personally in the landscape, in books, in newspaper and magazine feature articles, on television and radio programmes, and on our website (
www.mazemaker.com).
Sometimes we are introduced to someone who is keen on having a maze, and then we arrange to meet and take it from there.
Your website refers to this as "The golden age of mazes". Why do you think people are more fascinated with mazes now than ever before?
Mazes strike a deep chord in everyone. Mazes appeal to that sense of playfulness which each of us uses as children to explore and discover the world around us. We love the unknown, the out-of-sight, the mystery of places undiscovered. We can explore mazes on our own, or with friends, or with family relations of any age. After the age of 10, no one gets much better at solving mazes, so everyone can share the fun together.
Over the past 20 to 30 years, there has been an unprecedented increase in leisure time throughout the world. As well as the advances of electronic technology, there is still a great appeal in making a personal visit to a place, and enjoying the wide open outdoors. Mazes fit this trend perfectly.
Your website also mentions that some new mazes are being used as learning tools, walk-through works of art or opportunities for personal development.
Can you give themagiceye some examples or these kinds of mazes?
Math Mazes (pictured right): These can help children develop their skills at mental arithmetic.
Walk-through Works of Art: Some mazes and labyrinths abound with symbolism, and the experience of walking through them can be intensely moving. The journey can represent 'The Path of Life' from birth to death. Artistically, the maze can contain sculpture and other forms of symbolic imagery.
Opportunities for personal development: Complete families (children, parents and grandparents) that visit a maze together often remark how they have created a bit of family history by solving the maze together, and discovering fresh aspects of their behaviour:
"Little Sophie now has such a great sense of direction!"
"Doesn't grandad tease granny a lot!"
Courting couples often visit mazes, where the experience of feeling lost is not even of great concern!
What are your feelings on using mazes in these ways?
As a maze designer, I never cease to be pleasantly astonished and delighted at how 'The Maze' proves to be such a versatile art-form. Our clients bring to us most unusual requirements, which makes our design work very fascinating. Each maze project lends itself to expressing all kinds of human situations and experiences, including contemplative labyrinths. By being created full-size in the landscape, each maze also contributes to the surroundings of the world we live in.
Have you designed all these different kinds of mazes?
Yes - several of each kind! One of my first mazes was the Archbishop's Maze, which abounds in Christian symbolism and was dedicated by England's Archbishop of Canterbury in 1981. In recent months, I designed a wonderful contemplative labyrinth in a private garden in Connecticut (right) which contained a Tree of Life using 2,000 pieces of mosaic at the centre. We have now created over 240 mazes in 17 countries on 5 continents.
'Tree of Life - Contemplative Labyrinth' USA 1999.
This beautiful pavement labyrinth in an equally beautiful setting is in a private garden in New England.
The goal is a Tree of Life mosaic and to reach it you walk the path following its contours and flow.
Created in 1999, it was built to celebrate the life of a beloved son who died suddenly in his twenties from an unidentified virus.
What has your experience with these types of mazes been?
Excellent!
We get the most wonderful feedback from visitors, who want to tell us of their experiences. They sometimes write by letter, and in recent years many of them send email messages. Some of our maze owners have Visitor Books, where many interesting and appreciative comments are written.
Why do you feel maize mazes are so popular right now?
I designed the world's first-ever Cornfield Maize Maze in 1993, and since then we have created more than 100, four of which achieved new Guinness World Records.
Many farmers are keen to diversify their income, often by welcoming visitors onto their farms, and maize mazes provide an excellent activity. We now create as many as 40 maize mazes each year across England, Europe and North America.
Our cornfield maize maze design approach has developed over the years, and now provides an excellent 2 hours of family entertainment. This involves a main cornfield maze which forms a distinctive Design Icon when seen from the air; one or more bridges which achieve a giant 3-dimensional puzzle; various smaller 'Six-Minute Mazes' refreshments and other activities in a Maze Courtyard; and a new Family Maze Booklet each year, which includes quiz questions for a Quiz Trail that can be found in the main maze.
Each year the maize corn is finally harvested and fed to cattle, thus making way for a new cornfield maze - with a new story and a new design - the following year!

Adrian Fisher.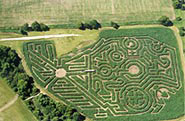 An Adrian Fisher maize maze.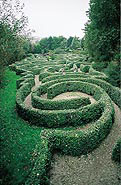 The maze at Newquay Zoo.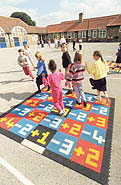 Mathmaze.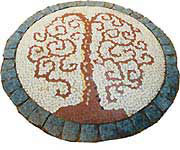 Tree of Life.