European Coaster Thrills also contains additional shots from some of the most unusual perspectives and it has been edited to a truly dynamic soundtrack. Blast off with Superman - The Ride, be a high flyer with Colossos, dash through the world of the Maya in Katun or get ready for a splash with Poseidon.
So get ready to join the fun and take an exciting tour through the powerful world of gravity and speed.
European Coaster Thrills contains coasters from Germany, the Netherlands, Belgium, France and Italy. The full list of coasters is:
Colossos, Heide Park, Germany

Superman, Six Flags Holland, Netherland

Wild Wild West, Movie World, Germany

Eurostar, Oscar Bruch, Germany

Colorado Adventure, Phantasialand, Germany

Weerwolf, Six Flags Belgium, Belgium

Tonnere de Zeus, Parc Asterix, France

Gsengte Sau, Tripsdrill, Germany

Expedition GeForce, Holiday Park, Germany

Poseidon, Europa Park, Germany

Blue Tornado, Gardaland, Italy

Katun, Mirabilandia, Italy
The DVD version contains more than 15 minutes of bonus material of the roller coasters 'Thriller' (Oscar Bruch, Six Flags), 'Goliath' (Six Flags Holland), 'Silver Star' (Europa Park) and a hidden feature (easteregg).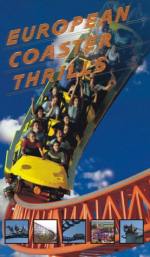 Above: The video
Below: The DVD