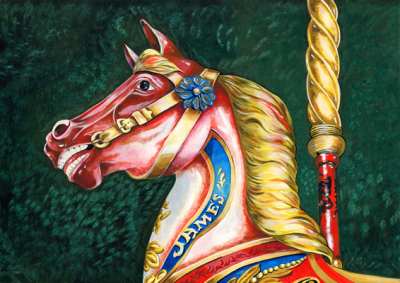 22"x28", signed and numbered, watercolour paper £460


20"x24", canvas, signed and numbered, unstretched £583
Buy Now
22"x28", canvas, signed and numbered, unstretched £920
Buy Now
11"x14", watercolour paper prints, unsigned, unnumbered £36.99
Buy Now
8.5"x11" matted and framed prints (no glass),
unsigned,
unnumbered £22.50
Buy Now
18"x24", signed and numbered, watercolour paper £460
18"x24", canvas, signed and numbered, unstretched
£583

9"x12", watercolour paper prints, unsigned, unnumbered
£36.99

8.5"x11" matted and framed prints (no glass),
unsigned, unnumbered
£22.50

---
Limited Edition Collectable Giclée reproduction of an original watercolour painting.

Printed on deckle-edged Arches® watercolor paper or high quality Canvas with a 3" white border. Signed and numbered, Certificate of Authenticity. Three sizes available.

Created with painstaking attention to detail, using true colours like gold to really enhance this piece. Your print will be hand painted by the artist with true gold details that appear in the original painting.

Her style, although definitively realistic, draws the viewer deeper into the fantasy that inspired the work. Her first available series based on the carousel of our youth is a fine example of her talent, breathing life into the whimsical nature of the carousel magically frozen in time.

Presenting Deborah's most popular award winning Carousel paintings. They hang in offices, and in homes across the country. Galleries throughout the United States proudly represent Deborah's art.

Total edition consists of only 200 pieces each. Matte, glass, and framing not included.