---

Battersea Fun Fair 1951-1974
Robert Preedy and Nick Laister

---

Charlie Cairoli: 39 Years Under The Tower
Nigel Male and Steven Richley

RRP: £39.99
Our Price: £38.99
You Save: £1.00

---

Northern Fairgrounds in Photographs
Bernard Mitchell

Our Price: £13.95

---

The History of New Brighton Tower and Grounds
Roy Dutton

RRP: £29.99
Our Price: £26.99
You Save: £3.00

---

Glen Echo Park: A Story of Survival
Richard Cook and Deborah Lange

---

BACK IN STOCK! Restoring the Glen Echo Park Carousel
Deborah Lange

Our Price: £32.50

---

BACK IN STOCK!
The Crystal Palace Dinosaurs
Steve McCarthy & Mick Gilbert

RRP: £12.95
Our Price: £11.95
You Save: £1.00

---
Book collection to sell?
If it is fairground, amusement park, circus or seaside-related, please contact us and we will make you an offer!
Do You Remember Joyland, Bridlington?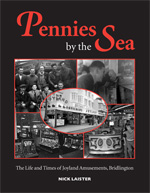 Buy the new book, Pennies by the Sea, or visit a special new website celebrating the history of this amusement arcade:
Post Your Memories Here
---
Advertise With Us
Joyland Books is the Internet's first online bookstore specialising in amusement park, fairground and circus books. With a growing weekly audience, advertising with Joyland Books is the ideal way to target this specialised sector. Click here to find out how to join the Joyland success story!
---
Joyland Books accepts most leading credit cards







Joyland Books
For amusement park, roller coaster, fairground and circus books. Also DVDs, videos, CD-ROMs and much more.
Based in Oxfordshire, United Kingdom
Established 2000
www.joylandbooks.com